Control your money. Keep your data.
uFincs lets you track your transactions and forecast your finances, without ever selling your data — cause we can't!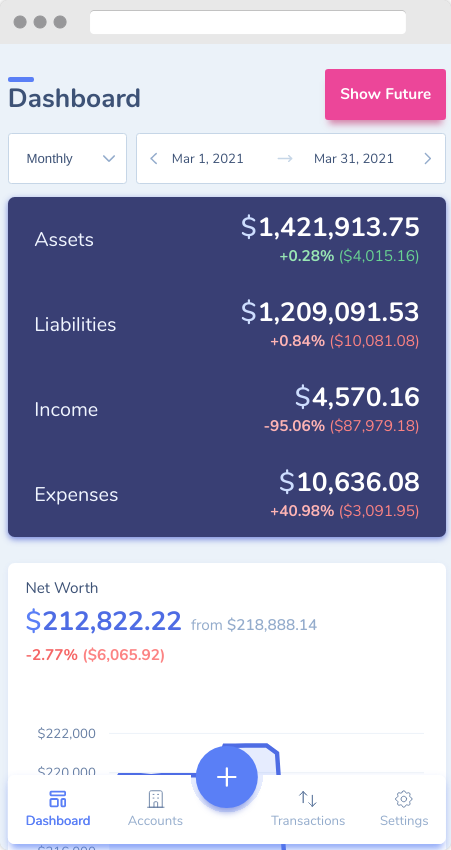 Start taking control in minutes.
1

. Create accounts

Forget about giving away bank passwords. Model your finances as Assets, Liabilities, Income, and Expenses.
2

. Enter transactions

Get hands-on and track every individual transaction. For the rest of your life.
3

. Profit!

You'll get sick of tracking so many transactions that you'll spend less money just to avoid it.
Maximum security
You own your data — period.
Want to share your finances with a stranger? Didn't think so. With end-to-end encryption, we can't access, read, or sell your finances even if we wanted to (which we don't).
End-to-end encryption

Easy data exports + imports

Enhanced password storage security
Control your finances anytime, anywhere.
uFincs is always with you
.

On the go

uFincs is mobile-first. If you can't enter a transaction right at the checkout, what's even the point?
.

At home

Of course, you're probably not checking out from anywhere IRL these days. Record all that online shopping from the comfort of your home.
.

Even while offline

That's right, when we say 'anytime', we seriously mean it. If your internet goes down, or even if uFincs goes down, you can still manage your finances.
Time to get hands-on with your finances.
Know what you don't get with a spreadsheet? The privilege of recording a transaction to pay for uFincs.
Sculpt your financial future

Own your data

0-day free trial